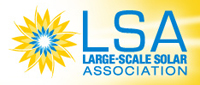 www.largescalesolar.org
Large-scale Solar Association
LSA is a non-partisan utility-scale solar advocacy association, whose purpose is to communicate a consistent message on behalf of the industry, to identify issues of consensus among involved companies and leverage that consensus where appropriate, and to coordinate and disseminate information both among the companies and to the public and decision-makers.

Current companies include: Ausra, Abengoa Solar, BrightSource Energy, Cogentrix, First Solar, Iberdrola Renewables, Infinia, OptiSolar, Solel, Stirling Energy Systems, SunPower.

www.summitpower.com
Summit Power - Solar Division
Summit Power excels in the innovative development of large electricity generation projects. In addition to its traditional project work, on a highly selective basis, Summit also consults on new energy technologies and other matters with potential for energy applications.

www.firstsolar.com
First Solar
By enabling clean, renewable electricity at lower costs, First Solar is providing a sustainable alternative to conventional energy sources. This goal has driven First Solar to become one of the fastest growing manufacturers of solar modules in the world.

www.pse.com
Puget Sound Energy
Puget Sound Energy is Washington state's oldest local energy utility, serving more than 1 million electric customers and nearly 750,000 natural gas customers, primarily in the vibrant Puget Sound region. The region has experienced dramatic change during Puget Sound Energy's 136-year history, but one thing has remained constant: PSE's focus on safe, reliable, low-cost energy service. The company's commitment to serving communities, to helping make them better places to live and work, is as steadfast as ever.